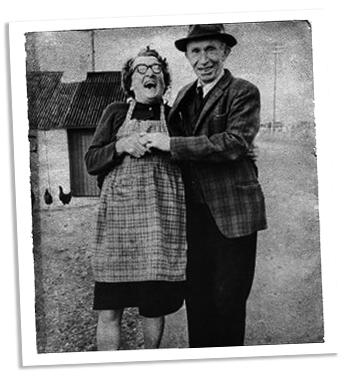 From Cork and Wexford via Limerick and London, we're a husband and wife partnership helping businesses like yours to grow. Together since forever, we've been living, telling and listening to stories for many years. We love what we do, we believe in what we do and, just like this couple, we do our best to focus on the important things in life.
So whether you need the whole kit and kaboodle or simply a business card design, get in touch. We'll give you our time and dedication, our care and attention. We'd love to hear your story and help you tell it – and if you like we'll tell you more of ours.
Clodagh & Garry x
We provide a wide range of services for some great people.
© 2018 Wiley Design - Creative Communications
Clodagh Wiley - @wileydesign 
Clodagh's 16 years' experience in agencies across Dublin and London, allow her to hit a design brief running. Specialising in design for print, she uses her expertise and passion to tell the great stories that bring brands to life.
Garry Wiley - @wileydesign 
Garry's 16 years' experience in agencies across Dublin and London, equip him with the tools needed to drive a brand to success. Specialising in digital design, he uses creativity and common sense to develop a unique narrative for your brand story.